Alfajores
- made December 31, 2011 from
Chewy, Gooey, Crispy, Crunchy
by Alice Medrich
The last thing I made in 2011
When my parents and later my friend Jenny went to South America, they each brought me back some alfajores, which, according to Alice Medrich, are "
the
fancy sandwich cookies of Spain and Latin America." There are many variations of alfajores but they're essentially vanilla butter cookies sandwiched with dulce de leche. Some are coated in chocolate, some are rolled in coconut, some are plain. The alfajores given to me were individually wrapped in foil and they were soft because the dulce de leche filling softens the cookies. So I was eager to make my own alfajores to try them as the fresh, crunchy version with the dulce de leche filling.
I don't own this cookbook but it's another one I checked out of my local library in an effort to keep my acquisitive nature under control. I like Alice Medrich's cookbooks though so I can see owning this down the road (cough). For now, the library copy will suffice. Actually, I've promised myself that once I thin out my recipe books of the ones I don't really use or plan to use, then and only then can I add to it with the ones I want the most. After my baking challenge is done.
In any case, since this is a sandwich cookie, I made them small, using a small ice cream scoop for reasonably similar-sized cookies. I thought that would make them small enough. The dough was a dream to work with, a bit stiff but not sticky and it was easy to shape. For once I didn't freeze them first. The recipe calls for flattening the cookie dough balls to a 1-inch thickness before baking. Although I started with fairly small cookies, they did puff slightly and spread a bit so the cookies turned out a little larger than I had expected. For the filling, I used the jar of dulce de leche from Williams Sonoma; it's good quality and tastes great.
These cookies turned out really well. They were crunchy the day they're made and are really tasty, especially with the more high-end dulce de leche as the filling. I had been a little apprehensive about adding the rum to the dough since I don't like alcohol but it was the perfect touch and upscaled it from "just" a butter cookie. The rum taste isn't strong at all but gives it more flavor. Definite thumbs up. The cookies do soften a little the next day because of the filling but they're still quite good. The only thing I would do differently next time I make these (and there will be a next time) is to make them even smaller and flatten them a little more to make them a little more dainty.
2 ¼ cups (10.125 ounces) unbleached all-purpose flour
1 teaspoon cream of tartar
1 teaspoon baking soda
¼ teaspoon salt
8 tablespoons (1 stick) unsalted butter, very soft
1 cup (7 ounces) sugar
1 large egg
2 tablespoons brandy or rum
1 cup dulce de leche
1.
Preheat the oven to 325⁰F. Position racks in the upper and lower thirds of the oven.
2.
Combine the flour, cream of tartar, baking soda and salt in a medium bowl and mix together thoroughly with a whisk or fork.
3.
With a large spoon in a medium mixing bowl or with a mixer, mix the butter with the sugar until smooth and well blended but not fluffy. Add the egg and brandy and mix until smooth. Add the flour mixture and mix until completely incorporated.
4.
Shape heaping teaspoons of dough into 1-inch balls. Place the cookies 2 inches apart on lined or ungreased pans and flatten to about ½" thick. Bake for 14 to 16 minutes, until the edges are lightly browned. Rotate the pans from top to bottom and from front to back, halfway through the baking time. Transfer the cookies to racks and cool completely before storing or filling.
5.
Sandwich the cookies with a generous dab of dulce de leche. The cookies will soften as they stand. They are good crunchy or soft. May be stored in an airtight container for at least 1 week.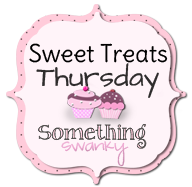 Crazy for Crust Sweet Tuesday
Sweet Tooth Friday
Sweets for a Saturday